Punta Telcio (2833m), trail 7B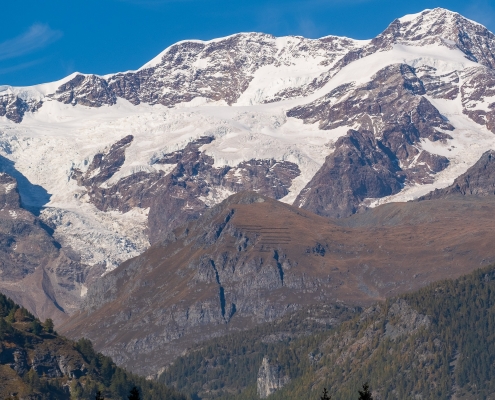 Trail 7B starts from Stafal and arrives at Punta Telcio (2833m). It is 8361m long and the total positive elevation gain is 1139m.
The approximate time for the ascent is 3h27. The trail is rated EE difficulty.
Punta Telcio is the mountain that it is impossible not to have seen, because every time you look towards Monte Rosa from Gressoney Saint-Jean, Punta Telcio is right there, front right: it is the one with the obvious rows of avalanche barriers. From the valley floor, in the presence of the giants towering behind, it looks like an insignificant hillock. It is actually a very respectable mountain, in a location that offers excellent views of Rosa (of course), the Lys springs and Stafal.
Trail 7B passes first by the Blue Lake/Bloabesee (2687m ) and then by the Green Lake/Griensee (2631m) . Blue Lake is a popular destination for families and Sunday hikers because it can be reached from the arrival of the Gabiet gondola in little time and effort. Almost no one continues on to Punta Telcio, so the trail from this point on is not as busy, and in some places the trail is not immediately obvious so you have to be able to "read" the terrain and identify the trail markers to proceed to your destination (hence the EE difficulty assigned to the trail).