Savoy Castle – trail 15
from Tschemonal/Chemonal to Savoia Castle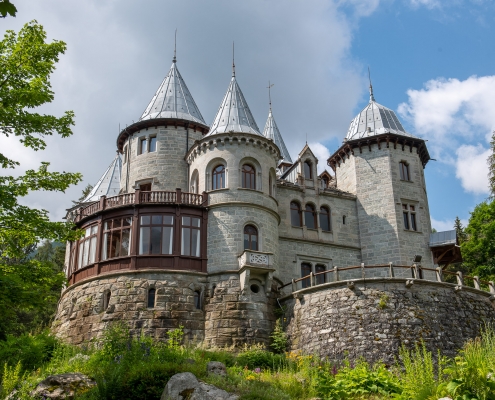 Trail 15 starts from Tschemenoal and arrives at Savoia Castle (1405m). It is 3324m long and the total positive elevation gain is 63m.
The approximate time for the climb is 0h56. The trail is rated T difficulty.
A trail within anyone's reach, relaxing, with virtually horizontal development, it runs almost entirely in the shade of the forest on the left side of the valley (orographic right of the Lys).
The trail starts from the hamlet of Tschemenoal, (or Chemonal),2km from the center of Gressoney-Saint-Jean: a tiny cluster of old houses built around a small church from 1749 dedicated to Our Lady of Grace (the house next to the church is from 1567).
After reaching the center of Gressoney-Saint-Jean, the trail reaches the Savoia Castle (Wikipedia), one of the valley's jewels in the crown: ancient in appearance, but actually built in the late 1800s (it was inaugurated in 1904), it was the summer residence of Queen Margaret of Savoia, who was in love with Gressoney (and by the town largely reciprocated). A few years after his death in 1926, his son Victor Emmanuel III sold the castle to Milanese industrialist Ettore Moretti: his heirs in the 1980s sold it back to the Valle D'Aosta region, which still owns it today.
The interior of the castle still retains much of its period furnishings, and can be visited year-round: here for prices and hours, tickets can be purchased online here. The park is freely accessible: inside, just in front of the castle, is a lush alpine botanical garden(Wikipedia) of about 1000sqm, opened in 1990, which is recommended to visit in July and August to take advantage of the peak flowering period.